John O'Keefe is an American playwright, director and solo performer. Based in the Bay Area, he has also been active in both Los Angeles  and New York theater for decades, as well as in other cities across the country. He has been the recipient of numerous grants, awards and residencies.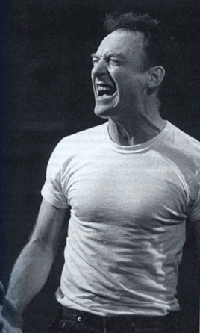 Born in Waterloo, Iowa in 1940, O'Keefe was raised in Catholic orphanages and state juvenile homes throughout the American Midwest. He began singing in church choirs at the age of five and pursued his musical interests, subsequently receiving a vocal scholarship at the University of Iowa, where he earned a BA degree in Philosophy and an MFA in Theater. He has performed his solo work in Europe and the U.S. O'Keefe became involved with Laboratory Theater as a writer and performer with the Center for New Performing Arts and the Iowa Theatre Lab both at the University of Iowa.
Upon moving to the Bay Area in the 1970's, he continued his experimental and physically demanding work as  co-founder of the Blake Street Hawkeyes, a performance lab ensemble based in Berkeley, California.
Over the course of the next four decades, O'Keefe's  plays (many under his own direction) have been produced at many significant American theaters including the  Gene Frankel Theater (NYC), the Padua Hills Playwrights Festival, the Odyssey Theatre (LA), Lincoln Center (NYC), Berkeley Repertory Theater, Undermain Theater (Dallas), Clarence Brown Theater (Knoxville TN), Cinnabar Theater (Sonoma, CA), Ohio Theatre (NYC), Climate Theatre (SF), Berkeley Opera, Public Theater (NYC), Marsh Theater (SF), Subterranean Shakespeare (SF), Theatre of Yugen (SF), Blank Line Collective (Chgo), Open Fist (LA) and California Stage (Sacramento).